The area's only obstacle course adventure race will kick off this August 4th at 10:00 pm in Schwarzkopf Park.  For more detailed information go to:       www.PHITATHLON.com
---
On the front lawn. Come on out, bring the whole family.
FREE Community Hog Roast and Car Show with games and entertainment. Everyone is welcome!! There will be a comedian/ illusionist at NOON as well as free food & ice cream, music, car show, bounce house, obstacle course, giveaways, games, dunk tank, arts & crafts, prize raffles, face painting, fire truck tours, vendors, and more! Fun for all ages. More details to come!
http://www.nbmarysville.org/events.html
https://www.eventbrite.com/e/crossfit-phit-lift-up-autism-2017-tickets-37044606415
DESCRIPTION
WHAT IS LIFT UP AUTISM?
Back in October 2013 Josh Everett, TrainHeroic, and more than 350 boxes in the fitness community rallied together in spectacular fashion to support the Autism community in a worldwide workout event called Lift Up Luke.
This competition for a cause sought to support early diagnosis and treatment of Autism, raise funds for the Autism Tree Project Foundation in San Diego, and most importantly, turn a global spotlight on the measured and severe impact of Autism on families and individuals around the world.
In 2016, the community crushed 2013's results with more than:
39 countries represented

650 boxes hosting the event

7,500 athletes performing the workout

$75,000 donated to our foundations

and 17.5 million social media impressions raising awareness and driving action
This year, we're looking to raise the bar and take it to a whole other level.
Our 2017 goal: Connect 1,000 gyms and 10,000 athletes around the globe to mobilize around this cause.
And you can help.
---
2017 LIFT UP AUTISM SWAG: YOUR NEW FAVORITE TRAINING SHIRT
Making you look good and dreams come true.
$10 of every shirt goes directly to our favorite Autism foundations.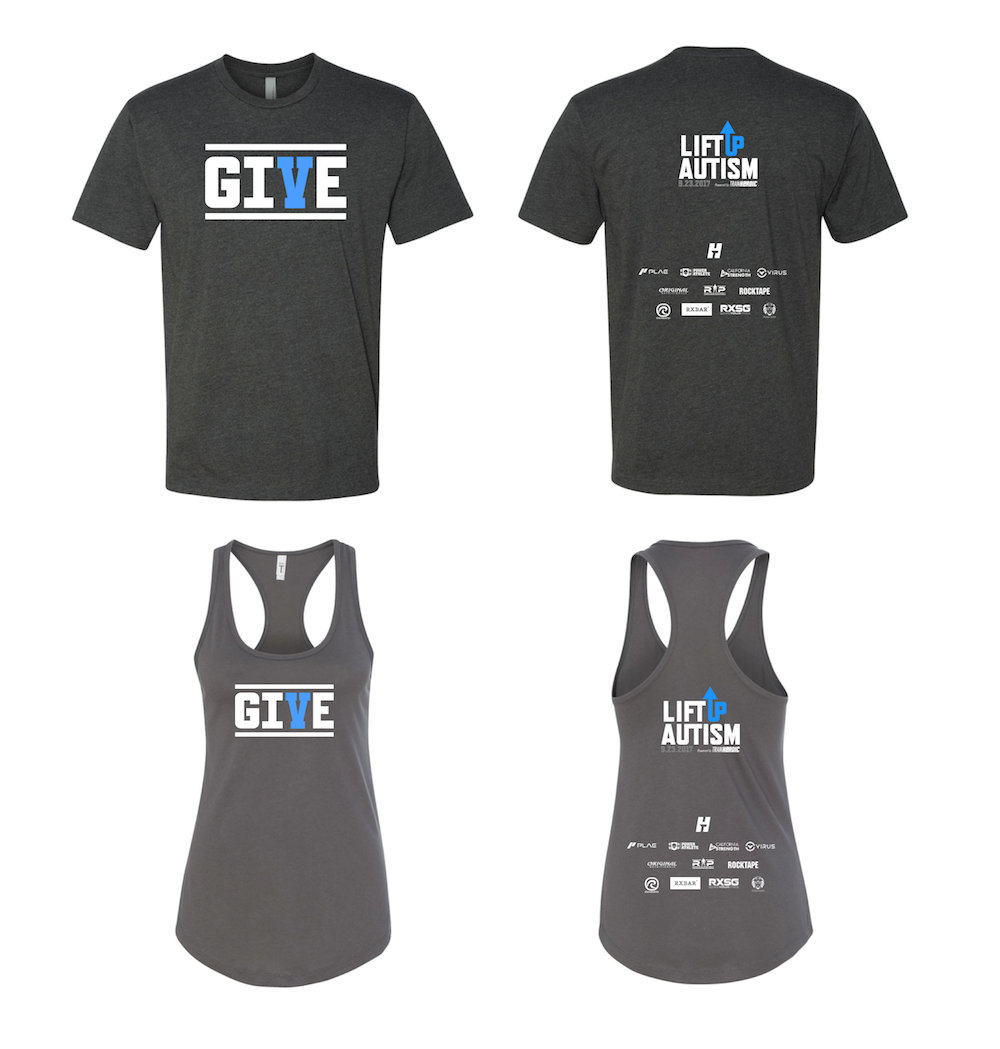 To snag your event tee, simply click to buy a ticket above!
---
THE WORKOUT
5 MIN AMRAP
4 Power Cleans: 155 lbs. Men/105 lbs. Women
24 Double Unders
10 Pull-Ups
The "Luke" workout is challenging but accessible. We have scaling options to accommodate athletes of all abilities and experience levels. If you're new to CrossFit or have never done these movements, there are many other ways to participate and get involved.
————————————————————————————————————————————————————————————————————————————–
We will be honoring the Men and Women of the Law Enforcement and the Fire Department by Giving them the entire month of September Free! Please encourage any Friends or Family that work in law enforcement or for the Fire department to  take advantage of this one time offer. September is a month of remembrance for those who were afflicted by 9/11, as well as a month of homage to those who sacrificed to help. As a way of saying thanks a FREE month of CrossFit (or any of our other classes) is the least we can do.
Registrations and weigh-in's will be held the day of the event begining at 10:00 am
We will have food and consessions
——————————————————————————————————————————————————————————————————————————————————————————————————————————————————————————————————————————————————————————————————————————–
We are looking forward to this being the best Party in town. Bring your Friends, and Family. We will be having a Costume contest as well as a creative covered dish contest. Dancing with some of the freakiest funniest costumes imaginable. See you there!

*****CLICK IMAGE TO ENLARGE***

height="204″ class="alignnone size-medium wp-image-1250″ />
Demolition / Renovation is scheduled for the week of Feb/24th – March/1st. We are forming volunteer committees now.
If you would like to be volunteer and have some time to commit we would love to put you to work. Some of the areas we will be
needing help with are, moving the equipment out of the old space and into the new, demolition, clean-up, painting.
We anticipate the launch of our new facility / space provisions the first week of March, just in time for spring.
Get with your CrossFit-PHIT coach so we can put your name on the volunteer list.
Anyone who helps with this project will be honored by having a brick on the wall designated with your name on it.
This brick will represent that without you, this expansion would not be possible.
Monday December, 31 2013
New Years Eve Day WOD: "2014″
Partner Up!
1st person:
20- Deadlifts
At completion, immediatly (clean) place the barbell into the front rack position of your parner
2nd person:
14- Front Squats
At completion, Immediatly Place the barbell onto the back of your parner
1st person:
20- Back Squats
At completion, have your partner remove the barbell off your back and proceed to
2nd person:
14- Shoulder to Overhead
At completion, place the barbell into the front rack position of your partner
1st person:
20- Cleans
At completion, place the barbell onto the back of your parner
2nd person
14- OverHead Squats
Then Switch and repeat
For Time
Each athlete must complete each exercise one time
RX= 135 / 95
This is to be done (attempted) "Unbroken"…WHA, WHA?..Yea I know your gonna break at some point, so when you do,
at every "break" your partner will suffer a stiff penalty..
**The date for our annual Christmas party has changed**
It is now scheduled for Monday evening 12/23 7:00 ish, following CrossFit class..
___________________________________________________________________________________________________________________________________________________
In the event you cannot attend please see a crossFit PHIT trainer to make a donation of your choosing..Thanks!